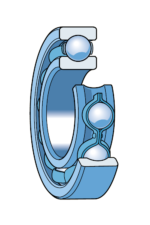 The most known and moving bearings of their kind. They are characterized by their simplicity and economic value. Loads they receive are radial and due to the low friction coefficient, they are suitable for high speeds *.They are durable and easy to maintain, available in single and double row as well as in open or sealed variants (2RS, ZZ, etc.). The rows of these bearings are as follows:
60..-62..-63..-64..-160..-618.. or 68..-619.. or 69..-622..-623..-42..-43..
* In the end there is a table showing the bearing forces in relation to their type.